Following the release of the latest government guidance regarding mass gatherings and the need to reduce the spread of the coronavirus (COVID-19), we regret to annouce that our concert at the Ipswich Corn Exchange on Saturday 16th May 2020 has had to be cancelled.

If you have already purchased tickets, please in the first instance contact the Ipswich Corn Exchange Box Office on 01473 433100.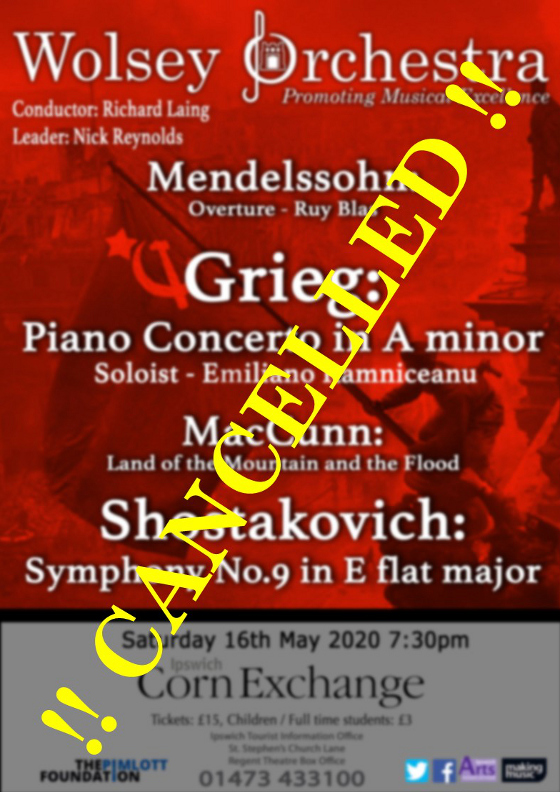 Saturday 16th May 2020 at 7:30pm
The Corn Exchange, Ipswich
Conductor - Richard Laing
Leader - Nick Reynolds
Soloist - Emiliano Ramniceanu
Mendelssohn:
Overture - Ruy Blas
Grieg:
Piano Concerto in A minor, Op.16
MacCunn:
Land of the Mountain and the Flood
Shostakovich:
Symphony No.9 in E flat major, Op.70
For the final concert in our 2019-2020 season, the Wolsey Orchestra is featuring one of the most well-known piano concertos in the repertoire - Grieg's ever-popular Piano Concerto in A minor. For this occasion we are delighted to welcome the young Venezuelan pianist Emiliano Ramniceanu. Currently studying at the Hamburg Conservatoire, Emiliano has already performed with many major orchestra in Latin America, USA and in Europe and we are privileged that he has found time to come and perform with us in Ipswich. In the second half of the concert we will treat you to a rare performance of Shostakovich's delightful Symphony No.9. Written and first performed exactly 75 years ago, immediately after the end of WWII, this symphony is very different in character - and lighter in mood - to his earlier symphonies. To complete the evening's programme, we have the Ruy Blas overture by Mendelssohn and the Land of the Mountain and the Flood by Hamish MacCunn - known to some of you as the theme music to the BBC TV series Sutherland's Law.
We are delighted to acknowledge the generous financial support from the Pimlott Foundation in bringing Emiliano to Ipswich to perform with the Wolsey Orchestra. Furthermore, in the week before appearing with us, Emiliano is also giving a couple of smaller recitals locally. For further information on those concerts please visit the Pimlott Foundation WWW site.
---
Tickets are available now from the
Regent Theatre Box Office
, St. Helen's Street, Ipswich IP4 1HE (Tel: 01473 433100), and from the Ipswich Tourist Information Office, St. Stephens Church, St. Stephens Lane, Ipswich IP1 1DP.
Adults £15.00, Children / Full-time Students £3.00
(a booking fee of £1.00 is included in these ticket prices)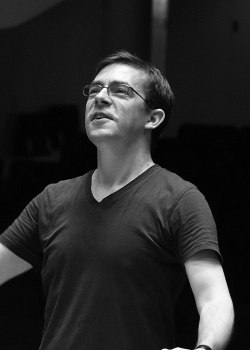 Richard Laing
Conductor May 2020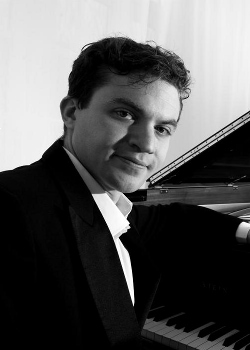 Emiliano Ramniceanu
Soloist May 2020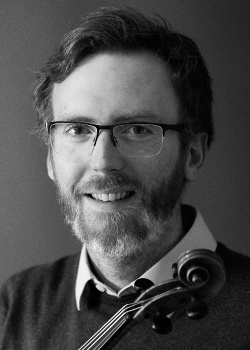 Nick Reynolds
Leader May 2020